Genomic Top 5 Koepon Selection Sale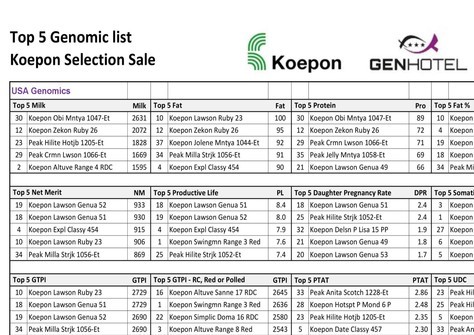 Sales
Top 5 Genomics, Koepon Selection Sale
The sheet with the top 5 highest ranking Koepon Selection Sale heifers for the most important traits on both the USA, German and Dutch genomic base is online now.
Click HERE for the Koepon Selection Sale Genomic Top 5.
For more detailed (genomic) information you can always contact Boudewijn Koole (+31 6 54796318, Boudewijn@GenHotel.nl) and Martijn van der Boom (+31 6 24217748,  Martijn@GenHotel.nl).
Click HERE for the online Koepon Selection Sale catalogue.