Females from GenHotel members in the top B&W NVI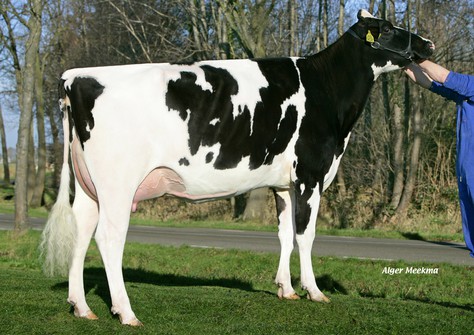 Genomics
Offspring of Vekis Xaco Melody VG-87 no. 2 INET
Both in the top R&W NVI and in the top B&W NVI there are several young heifers bred by GenHotel members. While the top R&W still contains many daughters of the sire Jacuzzi-Red, there are more different sires at the top B&W.
On the list of black and whites we find on the fifth place the highest scoring heifer from a GenHotel member. This is Midwolder Marjon 209 (Casino x Simba) with a stunning 356 NVI. This Casino daughter continues to rise in the list and holds on with a 501 INET too! The Midwolder Marjon family is descending from Remarlinda EX-90,  a cow family which excels besides conformation also in milk production.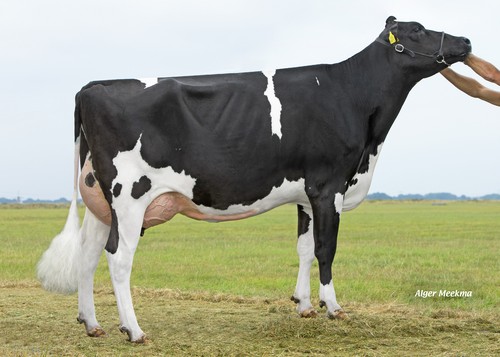 Midwolder Marjon 109 VG-85 (s. Bookem) granddam of Midwolder Marjon 209 (s. Casino)
Caudumer Lol 448 RDC from the Haytema family rose several spots in the NVI list. Lol 448 RDC (Jacuzzi-Red x Esperanto) scores a whopping 351 NVI with a high 513 INET. This makes this Lol of four full sisters the highest scoring on NVI basis!
Two maternal-sisters from K&L Poppe Gonda VG-86 (s. Rubi Agronaut) are also in the top NVI. These are Poppe 3STAR Golden 1977 (s. Vh Crown) with 355 NVI and the 345 NVI Bellwether daughter JHS Holsteins 3STAR Gonda 1. Both maternal sisters also score very high on RZG basis.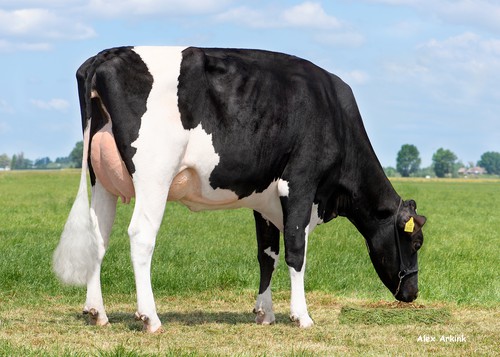 K&L Poppe Gonda VG-86 (s. Rubi-Agronaut) dam of Golden 1977 and Gonda 1
Based on INET, many members' animals are at the top. With a towering INET of 560, this Beeze Oldleus Mabel (s. VH Crown) is in 2nd place. A real hit for the owners Beeze Holsteins and Oldleus Holsteins, since this descendant of Vekis Xaco Melody VG-87 also scores 161 gRZG in Germany!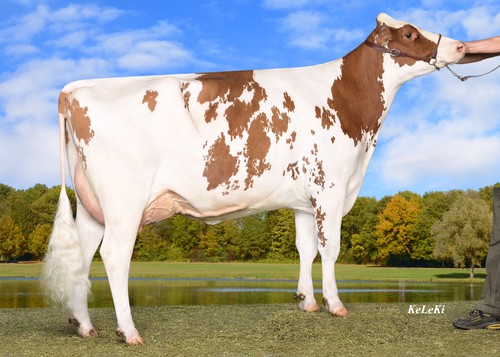 Wilder Saturn P Red (s. Apoll P Red)
Based on conformation we find a young heifer, owned by HM Holsteins, descendant from the Newhouse Sneeker family. With 112 EXT she's even the number 1 in the top 100 NVI! It's HM Sneeker 228, a Floris x Esperanto. The Sneeker family is known for its huge production with high fat and protein!