Excellent classification at Caudumer Holsteins
General
Molenkamp Anky 4 Red (Kylian x Spencer), now EX-90 at Caudumer Holsteins
This week 4 cows are rescored at Caudumer Holsteins in the Netherlands. This resulted in a fantastic score of 2 times EX-90 and 2 times VG-89.
Molenkamp Anky 4 Red, the meanwhile legendary Kylian daughter out of the Apina Massia family, is rescored this round with EX-90 and EX-92 for her sublime feet & legs, that has an ideal set and is being used firmly. This summer Anky has calved for the 6th time and produced at her first test 68.4 kgs milk per day. During this milkrecording she accomplished the lifetime production of 100.000 kgs, in a record time of 2215 milking days (46.0 kgs/day in average!), with even 4.51% fat and 3.60% protein. In 6 lactations she scores even 55% over herdaverage!
Anky was purchased by Caudumer Holsteins at the GenHotel Selection Sale as a heifer, has several sons in AI, was already 2 times the highest producing Red Holstein cow in the Netherlands, was successful in the show ring and is a star brood cow.
Also Caudumer Lol 330 P RDC, a red carrier and polled Snowfever daughter is in her 3rd lactation reclassified, now with EX-90 and EX-90 for her udder. Her dam Caudumer Lol 303 PP Red has increased her score this round to VG-89 (VG-88 MS, EX-90 F&L). Lol 303 is a homozygous polled Mitey P RDC out of Lol 292 P Red VG-87, the renown brood cow behind bulls as Caudumer Solitair P Red and Delta Fun P Red.
And last but not least Ramina 2, a Leko x Cricket from the US Crimson-Lane Bell Sherese family, is rescored, now VG-89 Total Score and EX-90 for her beautiful mammary.
|   Name  |   Sire x MGS |   Cow family | Lac | FR | DS | MS | FL | TOT |
| --- | --- | --- | --- | --- | --- | --- | --- | --- |
| Molenkamp Anky 4 Red | Kylian Red x Spencer Red | Molenkamp Anky | 6 | 90 | 90 | 88 | 92 | 90 |
| Caudumer Lol 330 P RDC | Snowfever x Mitey P RDC | Caudumer Lol | 3 | 92 | 89 | 90 | 88 | 90 |
| Caudumer Lol 303 P Red | Mitey P RDC x Lawn Boy P Red | Caudumer Lol | 5 | 88 | 88 | 88 | 90 | 89 |
| Ramina 2 | Leko x Cricket | Crimson-Lane B Sherese | 3 | 88 | 88 | 90 | 89 | 89 |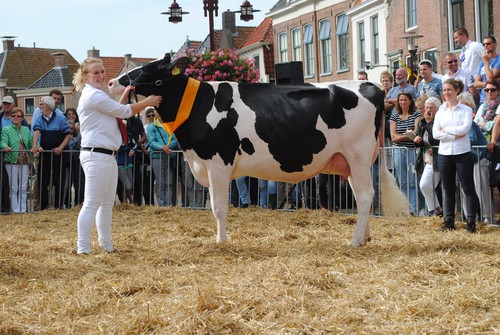 Caudumer Lol 330 P RDC (Snowfever x Mitey P RDC), now scored EX-90 & EX-90 MS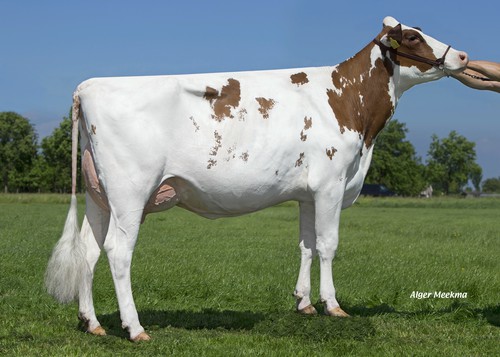 Caudumer Lol 303 P Red (Mitey P RDC x Lol 292 P Red VG-87),
                                                                                       now scored VG-89 (VG-88 MS)