Diepenhoek Rozelle delivers again!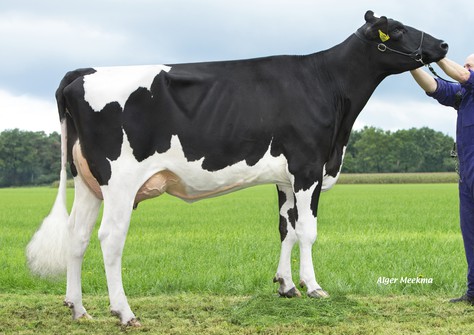 General
Diepenhoek Rozellle 65 VG-87 (s. Mogul), grand dam of Rozelle 158 VG-85
Diepenhoek Holsteins had a visit of the classifier recently. He has classified eleven milking cows and eight of them are offspring of one and the same family! Those eight are not only related, but also had a great total score of 84.9 points average with VG-85.5 MS. The Adriaans family (Diepenhoek Holsteins) can speak of a very high-impact cow family which they own, namely the Diepenhoek Rozelle family. This family keeps delivering (article 17-feb '20)!
The list shows eight first calvers with an average score of GP-83.9. Leader is Diepenhoek Ready 2 VG-86 / VG-88 FR & FL, sired by Topgear. She is followed by Welcome Legendary daughter Rozelle 150, Rozelle 158 (s. Eugenio) & Progenesis Outlast daughter Rozelle 153. They all got a total score of VG-85. The Rozelle family shows a very all-round profile which resulted in multiple sires in AI, like: Roz, Rozello and Jaguar. Right now, the Adriaans family still milks a lot of progeny (30+) from this family!
Also three milking cows in 3rd lactation got re-scored. One of them is Diepenhoek Chanel, a Balisto daughter with VG-87. She has a impressive maternal line with Larcrest Juror Chanel EX-93 as her matriarch. Chanel turned out to be a great bull dam. She has two sons from the same flush in AI: Citadel and Thrill (s. AltaBanco)
The classification results below show the great influence of the Diepenhoek Rozelle family:
| Name | sire | dam | LAC | R | DS | MS | FL | TOT |
| --- | --- | --- | --- | --- | --- | --- | --- | --- |
| Rozelle 108 | Pulsar | Rozelle 79 | 3 | 87 | 89 | 88 | 83 | 87 |
| Rozelle 87 | AltaSpring | Rozelle 56 | 3 | 86 | 86 | 88 | 87 | 87 |
| Chanel | Chrissy | Balisto | 3 | 85 | 85 | 87 | 87 | 87 |
| Ready 2 | Topgear  | Ready 1 | 1 | 88 | 84 | 85 | 88 | 86 |
| Rozelle 150 | Legendary | Rozelle 112 | 1 | 85 | 86 | 86 | 83 | 85 |
| Rozelle 153 | Outlast | Rozelle 113 | 1 | 86 | 84 | 86 | 85 | 85 |
| Rozelle 158 | Eugenio | Rozelle 104 | 1 | 87 | 87 | 85 | 81 | 85 |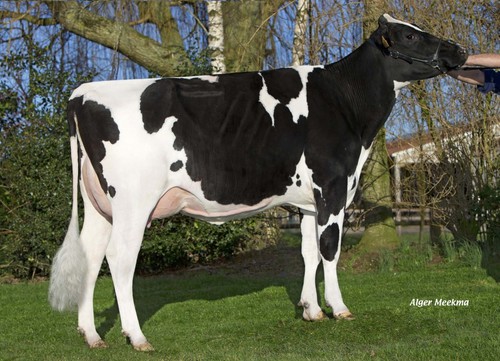 Roccafarm Beacon Chrissy VG-87 dam of Diepenhoek Chanel VG-87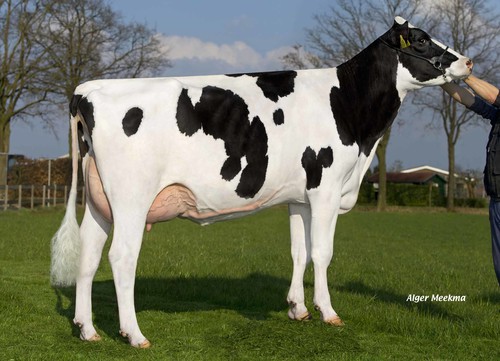 Diepenhoek Rozelle 56 VG-86 (s. AltaIota) 4th dam of Diepenhoek Rozelle 150 VG-85