Classification Schreur Holsteins
General
Wilder Kita Red VG-88 (s. Brekem RDC), dam of Wilder K 2031 RDC VG-85 & Kira RDC VG-85
At the herd classification at Schreur Holsteins recently 14 Holstein and Red Holstein milking heifers are scored in average 84.8 points total score and 85.3 for mammary system.
Highest scored heifer is Schreur Charlotte 60 P Red, a daughter of the homebred top proven sire Schreur Apoll P Red out of a VG-86 Maicon Red dam. The polled Charlotte 60 is classified VG-87 with VG-88 for her well attached, shallow udder and is producing easily over 40 kgs milk per day. Schreur Caralie 73 P, a Jetset granddaughter of the proven brood cow Candlelight P Red VG-86, is scored VG-86 and VG-87 MS.
Joy Now RDC, a 3rd lactation Go Now RDC daughter out of the Canadian Benner Blackstar Janet VG-89 family, is rescored VG-86 with VG-86 for her udder.
|   Name  |   Sire x MGS |   Cow family | Lac | FR | DS | MS | FL | TOT |
| --- | --- | --- | --- | --- | --- | --- | --- | --- |
| Schreur Charlotte 60 P Red | Apoll P Red x Maicon Red | Schreur Charlotte | 1 | 86 | 87 | 88 | 87 | 87 |
| Schreur Caralie 73 P | Jetset x Eraser P | Candlelight P Red | 1 | 86 | 86 | 87 | 82 | 86 |
| Schreur Caralie 67 P  | Jetset x Eraser P | Candlelight P Red | 1 | 84 | 85 | 87 | 84 | 85 |
| Schreur Caralie 58 Red | Africa Red x Zambrano Red | Candlelight P Red | 1 | 85 | 85 | 84 | 85 | 85 |
| Schreur Jenny 8 Red | Effort Red x Deluxe | Schreur Jenny | 1 | 81 | 87 | 87 | 84 | 85 |
| Wilder K 2031 RDC | Battlecry x Brekem RDC | Wilder Kanu RDC | 1 | 84 | 86 | 87 | 84 | 85 |
| Wilder Kira RDC | Battlecry x Brekem RDC | Wilder Kanu RDC | 1 | 84 | 84 | 86 | 85 | 85 |
| Schreur Chieftess 122 P Red | Fun P Red x Foxtrot P RDC | Dutchglen Chieftess | 1 | 85 | 85 | 86 | 86 | 85 |
| Schreur Massia 82 Red | Brasil RDC x Esperado P RDC | Apina Massia Red | 1 | 87 | 87 | 87 | 82 | 85 |
| Schreur Massia 83 Red | Booking Red x Esperado P RDC | Apina Massia Red | 1 | 86 | 86 | 86 | 84 | 85 |
| Schreur Savina 8 RDC | Milton Red x Jabir | Plushanski C Faith | 1 | 84 | 83 | 84 | 86 | 85 |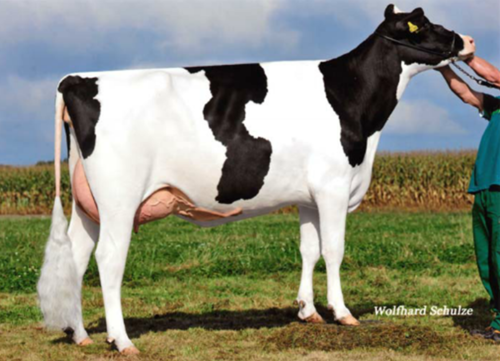 Joyana GP-84 (s. Shamrock), dam of Joy Now RDC VG-86