Classification at Poppe Holsteins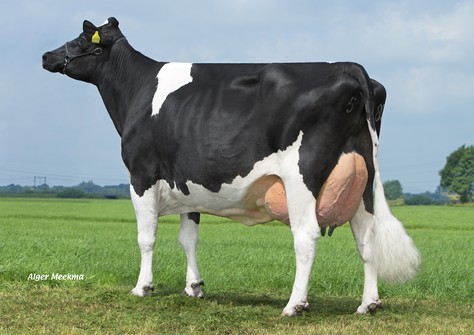 Type
Poppe Fienchen 580 RDC VG-88, broodcow of the Fienchen family
At Poppe Holsteins 4 cows, including two 2-Yr Olds, where classified VG-87 during herd-classification. Both these 2-Yr Olds are backed by the well-known Poppe Fienchen family. Poppe Fienchen 1159 RDC VG-87 is a Red Carrier Silver daughter of Poppe Fienchen 944 Red GP-84 (Perfect Aiko x Poppe Fienchen 803 RDC VG-86 x Poppe Fienchen 580 RDC VG-88). Fienchen 1159 RDC, who is projected at 11.730 kg of milk with 3.53% protein, has a current lactationvalue of 114+ and she is the dam to a Polled, +225 GNVI Mission daughter.
The other VG-87 classified 2-Yr Old is Den Hamer Red Hot Feebe RDC bred by the late Peter Boghaert of Den Hamer Holsteins. Her pedigree goes via an VG-86 Amor Red daughter also back at Fienchen 580 RDC. Feebe RDC is the dam to a +149 GRZG / +329 GNVI and Red Carrier Esperanto daughter.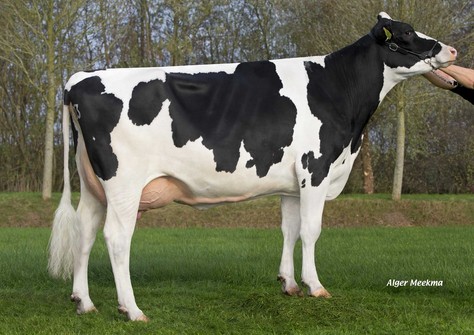 Poppe Fienchen 803 RDC VG-86, dam to Fienchen 1159 RDC VG-87
Wilder Kalibra
One of the most interesting Battlecry daughters in Europe is Wilder Kalibra RDC. She is classified VG-86 and owned by the Kalibra syndicate. Kalibra RDC, via Brekem daughter Wilder K25 Red VG-86 a granddaughter of Wilder Kanu 111 RDC VG-88, still offers +328 GNVI / +146 GRZG. She is several high scoring daughters. For example her Styx daughters: Kalibra SX 5631 Red (+389 GNVI / +159 GRZG; Own.: Melkveebedrijf De Oosterhof & K&L), Kalibra SX 5629 RDC (Styx; +365 GNVI / +155 GRZG; Own.: Poppe Holsteins & K&L), Kalibra SX 7700 RDC (+363 GNVI / +152 GRZG; Own.: Poppe Holsteins & K&L) en Kalibra SX 9882 Red (+290 GNVI / +152 GRZG; Own.: Bouw Holsteins).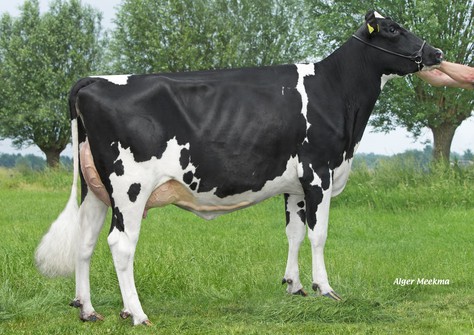 Wilder Kalibra RDC VG-86
Poppe Timeless
Two daughters of Poppe Timeless, an Aram son of Poppe Pietje 721 (Snowman x Poppe Pietje 519-Red), are classified VG-86. From the Hanneke family hails Poppe Hanneke 1129 VG-86. Her dam is Poppe Hanneke 904 Red VG-88 (Ellmau x Fidelity), the Reserve Junior 2-Yr Old Champion from the Wintershow Putten 2016.
The other Timeless daughter is Poppe Rita 1127 VG-86. Her pedigree goes via daughters of Classic, Roumare, Damion and Jesther back at Willem's Hoeve Rita 233A EX-92 (Lord Lily x Sunny Boy x F16).
| Name | Sire | Dam | Col | La | FR | DS | MS | FL | TOT |
| --- | --- | --- | --- | --- | --- | --- | --- | --- | --- |
| Fienchen 1159 RDC | Seagull-Bay Silver | Poppe Fienchen 944 | Z | 1 | 87 | 88 | 89 | 84 | 87 |
| Red Hot Feebe RDC | De-Su 11236 Balisto | Amor Fientje | Z | 1 | 86 | 87 | 88 | 86 | 87 |
| Phaeline  | De-Su Gillespy | Vekis Positive | Z | 3 | 87 | 91 | 87 | 84 | 87 |
| Pietje 1036  | Swissbec Brekem | Poppe Pietje 743 | R | 2 | 87 | 89 | 86 | 87 | 87 |
| Hanneke 1129  | Poppe Timeless | Poppe Hanneke 904 | R | 1 | 86 | 87 | 88 | 83 | 86 |
| Rita 1127  | Poppe Timeless | Poppe Rita 765 | R | 1 | 87 | 83 | 86 | 85 | 86 |
| Wilder Kalibra  | De-Su 12109 Battlecry | Wilder K25 Red | Z | 1 | 85 | 87 | 85 | 86 | 86 |
| Fienchen 1099  | Red Rocks Effort | Poppe Fienchen 803 | R | 1 | 87 | 82 | 88 | 81 | 85 |
| Fienchen 1139  | Seagull-Bay Silver | Poppe Fienchen 803 | Z | 1 | 84 | 86 | 87 | 82 | 85 |
| K&L Py Whinn  | De-Su Penley 11839 | Melarry Shan Whinn-Et | Z | 1 | 86 | 84 | 86 | 83 | 85 |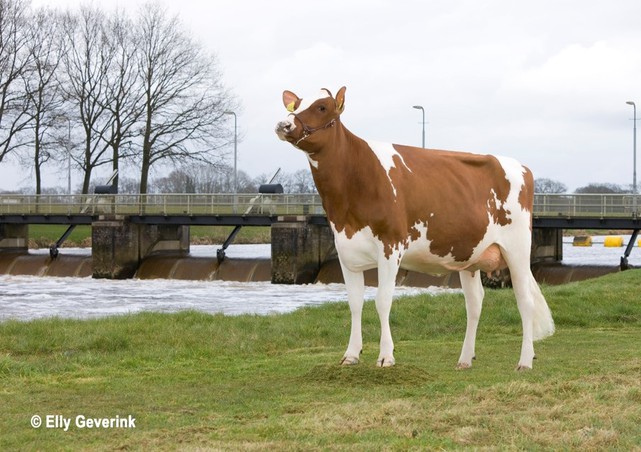 Poppe Hanneke 904 Red VG-88, dam to Poppe Hanneke 1129 VG-86