Beautiful Unix from the AZ Ebeltjes
Sales
AZ Ebeltje 460 EX-90 (s. McCutchen), at the Dairy Fair Mariënwaerdt
Lot number 26 at the Koepon Selection Sale is the first choice of 6 full sisters, sired by Croteau Lesperron Unix. Unix is a Numero Uno son out of the successful Markwell Blackstar Raven EX-95 family, with +13 Conformation (and +13 Mammary) still in the top 20 proven type sires in Canada.
Dam of these calves is Koepon Mogul Ebeltje 32 VG-89 (VG-89 MS), a very well balanced cow with a tremendous high and wide attached udder. She has produced in 4 lactations already 60.000 kgs milk with 4.3% fat and 3.5% protein.
The Koepon Ebeltjes are descending from the AZ Ebeltjes cow family, owned by AZ Holsteins, the Aalberts family in Zetten. Cows from this family always achieve high lifetime productions, also due their enormous will to produce. In addition the Ebeltjes are very fancy cow to look at. The fantastic McCutchen daughter AZ Ebeltje 460 EX-90 (EX-90 MS) was this summer Intermediate Honorable Mention at the Dairy Fair Mariënwaerdt in the Netherlands. At the Senior cows AZ Golden Dreams Ebeltje 445 EX-91 (EX-92 MS) was the Honorable Mention. The fancy herd collection of AZ Holsteins, consisting 3 Ebeltjes(!), was first in the class and Reserve Champion herd collections at the Dairy Fair.
The 6 Unix sisters are born between April 7th 2019 en July 16th 2019 and are eye-catching showy heifers. Buy your show heifer for the coming show ring season now!
Click HERE for lot number 26 of the Koepon Selection Sale.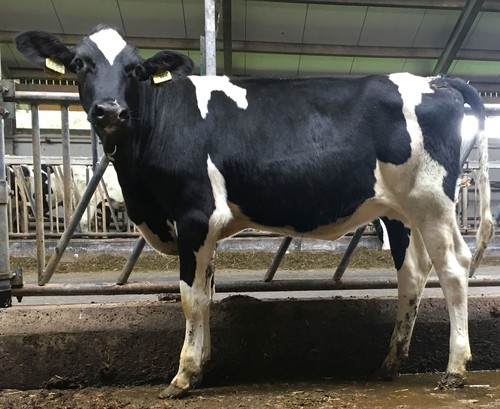 Koepon Unix Ebeltje 39, one of the 6 very fancy Unix daughters from the AZ Ebeltje family!

AZ Ebeltje 445 EX-91 (s. Golden Dreams), HM Senior Cows Dairy Fair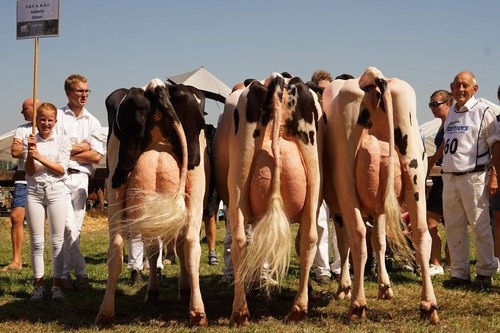 Three Ebeltjes in the great herd collection of AZ Holsteins, the Aalberts family
          first in the class and Reserve Champion at the Dairy Fair Mariënwaerdt 2019