Apoll P time @ Schreur Holsteins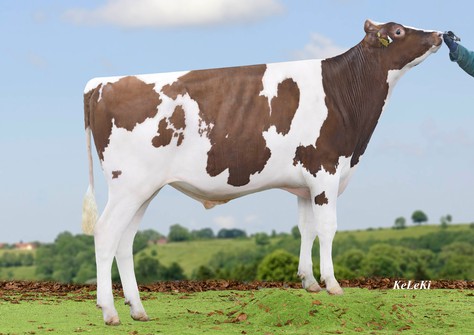 At least 7 daughters of Schreur Apoll P Red, an Aikman son of Verhages Bos Candlelight P Red bred by Schreur Holsteins, are classified during herd-classification at Schreur Holsteins. These 7 Apoll P daughters where classified with 84.7 points and are producing 17% above herd average.

Verhages Bos Candlelight P Red VG-86, dam to Schreur Apoll P Red
Fancy & Productive
The highest classified Apoll P daughter is Schreur E Ihlen 427 VG-87. Her dam is a VG-87 Maicon daughter of Schreur E Ihlen 247, a VG-88 classified daughter of O Man. Ihlen 427 is one of the highest producing 2-Yr Old at Schreur Holsteins with an lactation value of 125+.
Fancy and productive is also Schreur Apoll Angel P Red VG-86. She is currently producing 31% above average and she is herewith the highest lactationvalue cow in the herd. The dam to Angel P Red is Caps Angela 3 Red VG-87 (s. Fageno) and that makes Angel P Red a full sister to the bull Schreur Argus P Red and a half-sister to Caps Angelo (s. Riverboy).
| Name | Sire | Dam | Col | La | FR | DS | MS | FL | TOT |
| --- | --- | --- | --- | --- | --- | --- | --- | --- | --- |
| E Ihlen 427  | Schreur Apoll P | Schreur E Ihlen 276 | R | 1 | 86 | 89 | 88 | 87 | 87 |
| Charlotte 47  | Molenkamp Bolt | Schreur Charlotte 15 | Z | 1 | 86 | 86 | 87 | 88 | 87 |
| Apoll Angel P  | Schreur Apoll P | Caps Vvh Pw Angela 3 | R | 1 | 82 | 85 | 88 | 86 | 86 |
| Lomee 2 P  | Schreur Apoll P | Schreur Lomee | R | 1 | 85 | 86 | 87 | 85 | 86 |
| Adico RF  | Dymentholm S Sympatico | Ms Aubreys Addie-Et | Z | 2 | 86 | 83 | 87 | 81 | 85 |
| Serena 7 P  | Seagull-Bay Silver | Huijben Dg Earn So | Z | 1 | 87 | 87 | 87 | 81 | 85 |
| Caralie 50 P RF  | Edg Rubicon | Candlelight P | Z | 1 | 85 | 86 | 86 | 85 | 85 |
| Massia 69 P RF  | Schreur Apoll P | Schreur Massia 41 Rf | Z | 1 | 84 | 86 | 86 | 83 | 85 |
| Charlotte 52  | Delegate van de Peul | Schreur Charlotte 7 P | R | 1 | 84 | 84 | 86 | 82 | 85 |
| Caralie 41 RF  | Mountfield Ssi Dcy Mogul | Candlelight P | Z | 1 | 86 | 86 | 86 | 82 | 85 |
| Lomee 5 P  | De Volmer Brasil | Schreur Lomee | R | 1 | 87 | 87 | 84 | 83 | 85 |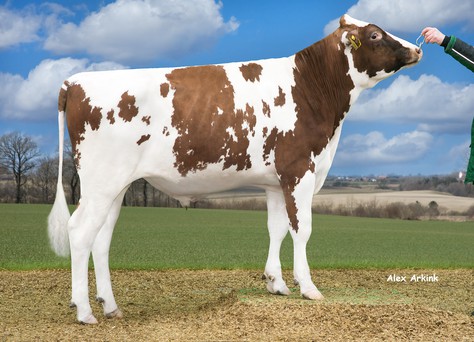 Schreur Argus P Red, full brother to Angel P Red VG-86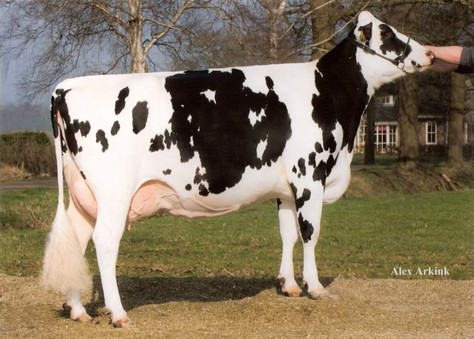 Schreur E Ihlen 247 RDC VG-88, granddam to Schreur E Ihlen 427 VG-87